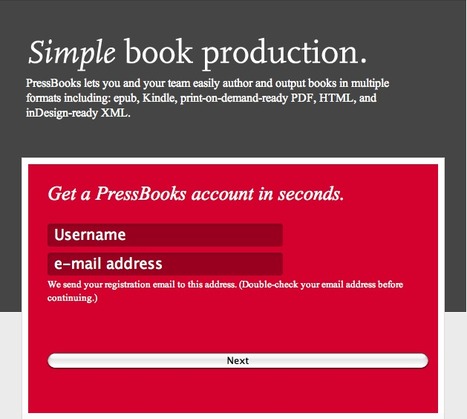 Robin Good: PressBooks is a new book publishing platform, built on WordPress, that makes it easy to collaborate with an editorial team, and to generate clean, well-formatted books in multiple outputs: .epub, Kindle, print-ready PDF, InDesign-ready XML, and of course HTML.
"PressBooks is a digital-first book publishing tool built on WordPress that integrates a set of rules for encoding, transporting and storing documents in machine-readable formats, with emphasis on simplicity, usability and accessibility, particularly over the Internet.
PressBooks also makes a web version of all books — which can be private (for production only), or public (free or behind a paywall).
PressBooks, a Montreal-based start-up, is the brainchild of Hugh McGuire, a writer and web-developer and a co-founder of Book Oven, a cloud-based publishing tool that allows people to collaborate in writing, editing and proofreading a book, all through online tools.
He's also the founder of LibriVox.org, an all-volunteer project whose aim is to make all books in the public domain available, for free, in audio format on the internet.
It was once hailed as "perhaps the most interesting collaborative cultural project this side of Wikipedia."
* Authors and Very Small Publishers can use PressBooks for free – we make great ebooks and typeset print books.
* Big and Small Publishers can use PressBooks as a lightweight, but extremely powerful (XML) workflow tool to output ebooks and typeset print books, for free.
The first book published using the PressBooks platform is Book: A Futurist's Manifesto, published by O'Reilly Media.
"Along with O'Reilly Media, another big-name player seems sold on the project. Harvard Business Review Press has produced and published an ebook using PressBooks."
Read more about it: http://caribbeanbookblog.wordpress.com/2011/11/22/pressbooks-a-new-publishing-tool-built-on-wordpress/
See a demo slideshow: http://www.slideshare.net/mackinaw/pressbooks-demo-deck
Find out more here: http://pressbooks.com/